Lino Lino

We create rose art flowers using wood shavings.
Our production utilizes recycled materials,
making it s sustainable SDGs art.
Takumi wooden rose was displayed for the Belladonna art exhibition held at Tokyo Metropolitan Art Museum in April, 2021.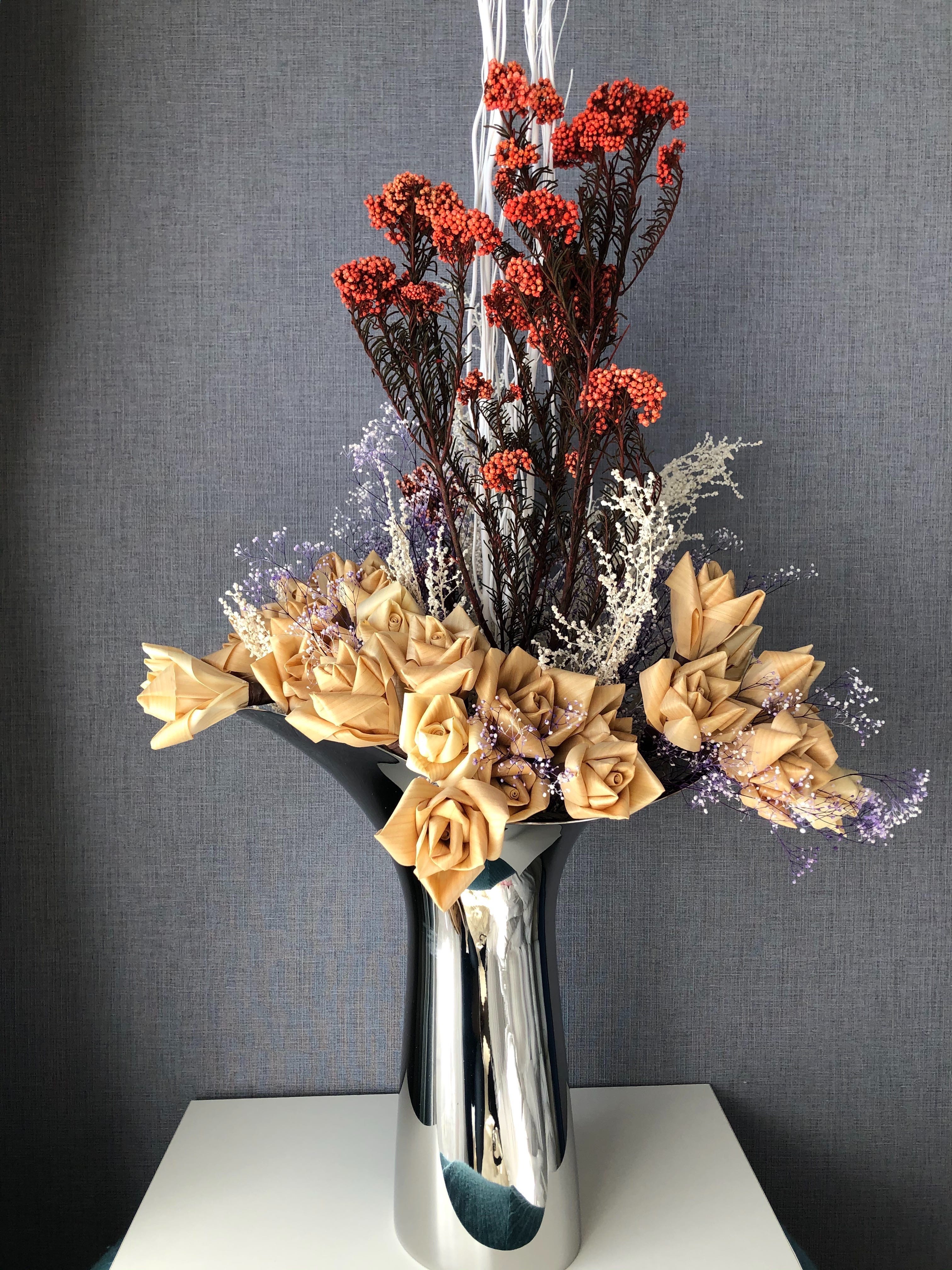 "TAKUMI WOODEN ROSE" concept video
(1min)
Youtube のコンテンツは現在の Cookie 設定では表示されません。"コンテンツを見る"を選択し、Youtube の Cookie 設定に同意すると閲覧できます。詳細は Youtube のプライバシーポリシーをご確認ください。Cookie の利用は、Cookie 設定からいつでも変更できます.
コンテンツを見る


The 4 features of Takumi Wooden Rose®︎
1. Hiba's scent
The unique scent that makes you want to smell it forever gently stimulates our sense of smell. The refreshing scent reminiscent of the forest instantly refreshes the mood.


2. Formative beauty
By using a novel method of folding what is generally called "plane scrap" into petals, we have created roses that draw three-dimensional and graceful curves.


3. Functionality
The deodorant, antibacterial, and insect repellent properties of Hiba ingredients bring a refreshing scent and clean air to your daily life.


4. Eternity
As a rose that never withers, it will forever leave the precious thoughts of that moment in a form.
Lino Lino
Lino Lino is working to spread the charm of Japan both to the world through "Takumi Wooden Rose®︎".

Currently, we regularly communicate the charm of Japan's nature and handicrafts through workshops and products sales at Karuizawa Hoshino Resort Harunire Terrace and Nihonbashi long-established kimono wholesaler Tagen.

In addition, we are developing "Takumi no Bara®︎" gift products and on-site workshops for hotels and various businesses. (We accept orders according to your budget.)
Origins
On the 1st of December 2019, we encountered and dedicated in NIGHT TOGO event. That was a quite new approach of developing Japanese tourism industry by seeking a potential of Japanese shrine facilities.
We held many kinds of stages performed by the authentic artists like Noh, GEISHA, KARATE and so on.
Herbalist
Baldwin & Co is one of the oldest herbalist in London established since 1844. Their store has been blessed with a variety of celebrities over the years.
They don't have company-owned store abroad along their policy except for Japan.
Fortunately we're able to be provided Baldwin's organic and sustainable oil from them.
<Aroma essential oil line-up>
Rosemary, Tea tree, Lavender, Lemon, Peppermint,
Japanese citrus*、Hiba*
*Japanese citrus and Khiva are not under Baldwin label.
The 1st Public Solo Exhibition @ Tokyo Yanaka old folk house gallery in March 2022
Takumi Wooden Rose
Takumi wooden rose is made of "HIBA (yellow cedar) " wood shavings.
Only Japanese artisanship and enthusiasm can create perfectly this ultimate artificial flower object. Japanese craftsman shaves HIBA ( yellow cedar) wood and Lino Lino master artist fold each petal skillfully.
Khiva wood has been used for sanitization and relaxation due to its own flavor.
Feel and imagine Japanese nature and traditional skills of Japanese masters.
(Utility model registered, Trademark registered)


Fragrance Accessory
This product was born from someone's question that how to explain the reason why Japanese cherry blossoms are so beautiful and precious. The most reason is cherry blossoms are falling immediately, in other word "impermanence". We try to describe Japanese sense of worth through a flavor flying away with the times.
A symbolic stone mounted in the center has a diffuser function. Please drop an aroma essential oil, you'd enjoy good scents around immediately.
Our fragrance accessories have many kinds of attachment for example, pierce, necklace, tiepin, scarf charm, broach etc. Please click and check our online store.
(Utility model registered and under applying for trademark registration)


Fragrance Mask Accessory
Nobody expected thus mask basis life under covid-19. We learned that predecessors had taken epidemic as an opportunity to improve our living much better.
Lino Lino has released newly developped product named "Fragrance Mask Accessory" which is having a diffuser stone. One drop of an essential aroma oil on the stone, it embraces you with flavor shield. Fragrance Mask Accessory helps you to bring mask, for example, at the lunch time you can hold your mask on your ID holder by using the clip on it.
(Under applying for trademark registration)


Bottle Accessory
Japanese has many seasonal ceremonies and very calm ordinary days in our daily life.
However, due to commercialism, calm days have gone and we are obliged to rush in the civilization.
Nevertheless, Lino Lino believes traditional life event is essential and necessary for us even in contemporary society. Hopefully our bottle accessory could be a good assistant item for seasonal ceremonies.
Takumi Rose Promotional Video